Medical Cannabis Evaluations in Florida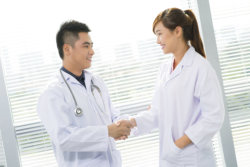 At the Bernard Cannabis Center, we only aim to provide the safest and highest quality of care for our patients. Because of this, our medical providers are known to have outstanding skills and many years of experience under their belts. Our providers, ranging from occupational therapists to radiation oncologists, have had a massive contribution to their respective fields, through providing effective treatment, conducting medical research, and publishing them for public review. Based on years of experience and thorough research, they have become firm believers of using medical cannabis to give patients the high-quality and holistic care that they need. Contact us if you are a compassionate and caring physician interested in joining our team!
Meet our renowned and successful medical providers as well as the owners of Bernard Cannabis Center!
Taralyn Bernard, OTR/L is a board certified and licensed Occupational Therapist who has over 20 years of experience. She has rehabilitated patients suffering from strokes, traumatic brain injury, cancer, dementia, pain management, PTSD, etc. Taralyn also assisted patients in activities of daily living skills so that they can maximize their independence with life. Together with Dr. Johnny Bernard, clients will receive a holistic approach for optimal care.
Johnny Bernard, Jr., MD is a local board certified Radiation Oncologist, specializing in treating cancer with radiation. He attended medical school and internship at the University of Tennessee Health Science Center and completed residency training in radiation oncology at the internationally renowned Mayo Clinic in Jacksonville, FL, where he served as Chief Resident and attained the academic rank of Assistant Professor of Radiation Oncology. Dr. Bernard has published numerous research articles on cancer detection and treatment. He served as a Radiation Oncologist for the Army and was honorably discharged at the rank of Major. Dr. Bernard is known in the community for his compassionate bedside manner, always doing his best to listen to the patient and their concerns and provide the best options for treatment. He went from a skeptic to a believer in cannabis after years of patients sharing with him their stories of how cannabis was working to help with numerous symptoms. His many patient requests for medical cannabis sparked his interest in researching medical cannabis and becoming a qualified provider. Dr. Bernard is now a true believer in integrating medical cannabis for qualifying patients to provide the highest quality of care.
Dr. Bernard is a qualified ordering physician under Florida Law to make recommendations for low-THC and medical cannabis. All Medical Cannabis Evaluations in Florida and recommendations will be performed by him. Please click the Contact Us page to request an appointment. We look forward to working together with you to give you access to an alternative to traditional pharmaceuticals, to try to place you on the path to a better quality of life.
I'sis Maurice, RMA is a certified Registered Medical Assistant, who has compassionately assisted patients with disabilities for over 15 years, ranging from extreme anxiety, bipolar disorders, to behavioral issues. Suffering from conditions of her own, I'sis has understanding and empathy for patients with debilitating medical conditions. She has firsthand knowledge of the benefits of medical cannabis as a patient of the Bernard Cannabis Center. She serves as a consultant on medical cannabis, with a firm belief in helping others to find a balance between pharmaceutical drugs and holistic alternatives.
For assessment and scheduling home visits with our providers, click the Contact Us page or call us at +1-866-737-9333 for all your inquiries and concerns about medical cannabis and the medical services we provide.